Did you know that soap can breathe? You'd know a lot about natural soap if you took a look at what real soap looks like. It's colorless, usually odorless and sensitive to the environment. Colors may change depending on the environment. Since we use the finest vegetable ingredients we can find they often vary by batch. Most of our ingredients come from incredibly diverse areas where they are made differently such as Shea butter. This means that each batch differs slightly in appearance.
Dark spots on the soap bars are not uncommon. As the soap ages, it will continue to discolor. This is normal and one of the reasons this is such a good soap! Beware of any products that look as good on Day 1 as they do in a year. Other soaps use chemicals (plasticizers) to preserve the same appearance for years.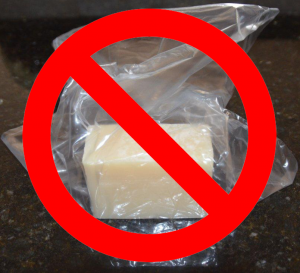 Our soap bars will physically change over time. To many, as the soap ages it actually mellows and becomes even better. Like a fine wine!
Do not store this soap in a plastic bag. It is best to allow the natural soap to breathe. If you place this soap next to regular store bought soap it may absorb chemicals or odors from those soaps as well. This is also why the soap should breathe in an open environment.
Avoid a "Vanishing" Bar
While many tells us our large soap bars last forever, we have others that say they go through the bars like clockwork. With such a lathery bar of soap as ours, be sure and put the soap in a soap dish that is well drained and out of the shower stream. This will allow our soap to dry between showers or baths. If our natural soap stays wet in a puddle of water, it will melt fast.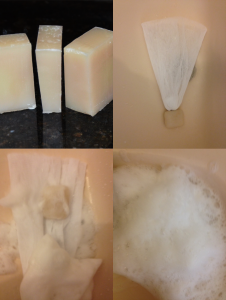 Pro tip from our customer, Jill:
Cut your bars in quarters when you get them. They are already large "blocks" as it is and cut fairly easily. Dividing the bars increases the surface area and allows for the soap to "breathe" easier. Did we mention it's easier to give to your friends that way?
Pro Tip from another customer, Caseh:
After cutting the bar into quarters take a cloth and wipe the soap hard a few times. This should create plenty of foam to wash the face with. This method also saves a lot of the soap so you can keep using that bar for months!