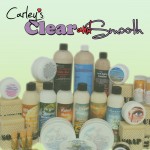 Carley's Clear & Smooth is an artisan brand of natural skin care products. Meticulous care is put into the creation of every product from dating fresh products to closely scrutinizing what ingredients go in the products. If your looking for a chemical stew of products, this isn't it!
A little bit about what sets our products us apart:
Highest quality products made of the best essential oils and natural butters
Products are pH-neutral instead of being highly acidic
No animal derived products (other than beeswax) and cruelty-free
Paraben-free products
Personalized customer service with actual conversations
100% No Time Limit guarantee
Current customers: Read our Quick Start method before getting started or watch the video.
If you're just browsing, read the Testimonials page as well as the Acne.org review page. You can also check out our website.
Carley's Clear and Smooth provides a 100% No Time-Limit Guarantee. Despite the best intentions of our customers, many claim this to be a miracle "quick cure". About a third of our customers see these instant results (they are usually allergic to standard treatments). Another third may take up to six weeks to see results (they have spent their lives overusing ointments) and are glad they stuck with it! Many of our competitors offer a similar deal for a limited time. 30-60 days? Please!
If you have any questions, please contact us. We try answer within 24 hours. If we don't, e-mail us again!