Enhance your best features. Use the Contour Sculpting Stick to DEFINE and use the Shimmer Highlighting Stick to ILLUMINATE. Blend using the included makeup sponge. Lightweight. Silky. Feels like you are not wearing anything. Can be applied after foundation or by itself.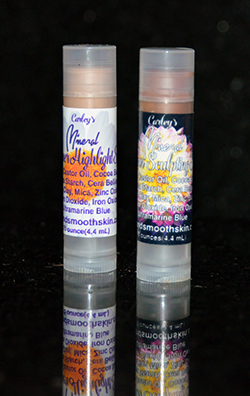 We use the finest ingredients for your safety. Castor Oil and Cocoa Butter. With real mineral colors. No dyes or animal derived colors. Cera Bellina is derived from beeswax. It's won't get crusty. It is much more expensive than plain beeswax.
These are not yet for sale. Buy any full size product on our website (single bars of soap or make up samples do not qualify) and just write a note you want the free make up sticks. This is a limited time special.
We're extending this offer a few more days for the Herbal Toner as well. We made more. Just buy any two full size products and ask for a free toner. YES you will get both the 2 make up sticks and the Herbal toner if you buy 2 or more full size items. (we hope you buy more) Single bars of soap and make up samples don't qualify.